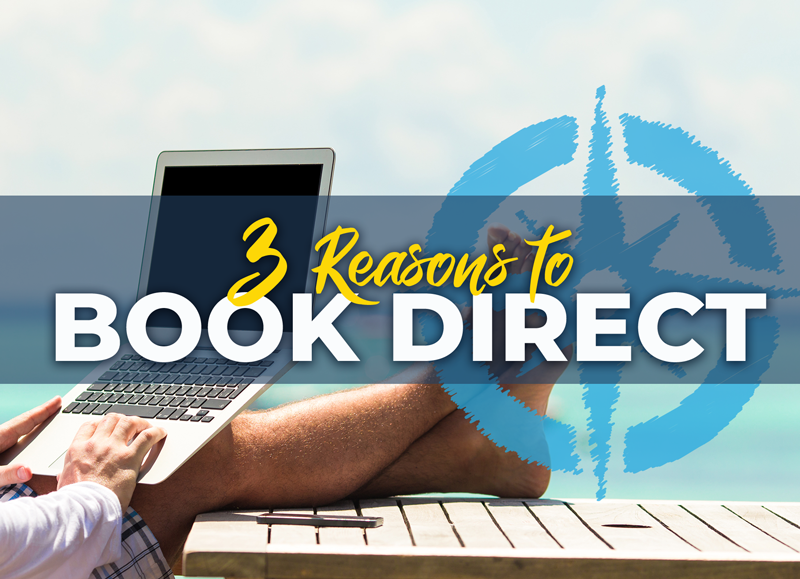 When you choose to book direct, you are gaining more than a few benefits to your vacation. Here are three reasons you should ditch the third-party travel service and book direct instead:

Avoid the Hidden Travel Fees

Online travel agencies often boast having the best prices out there, however, they often charge their travelers service fees or tack on hidden costs that are easy to miss. When booking through 3rd party sites like VRBO, AirBnB or HomeAway, etc., additional fees are added to your booking. These fees can increase the cost of your booking anywhere from 5-25%! Don't forget to read the fine print, or better yet, skip the hassle and book direct to save money.


Better Service

When you book direct, you have direct contact with the property manager who's on site—and you avoid having to use an unnecessary "online middle man" with whom to communicate. When you book direct, you can find answers to important questions before you commit to a reservation.


No Lost Reservations

Unfortunately, this is a common occurrence for vacationers who book with reservation sites like Priceline and Travelocity. By booking directly with the vacation rental, you will avoid the risk of sharing your personal information with anyone else and you'll be sure your reservation won't get lost.
Remember to vacation smarter, not harder! Book your next Panama City Beach vacation directly with Sand Seeker Realty here or call (850) 234-2151!